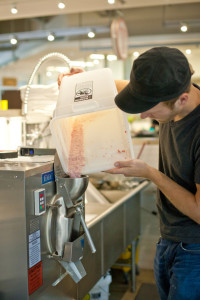 Culinary Minded & Ingredient Centric
Hand-crafted ice cream, vegan gelato, sorbet, baked goods & confections all made from scratch using organic ingredients including grass-fed dairy, and produce from small Michigan farms, right in downtown Grand Rapids.
We call that Love.
Read about our founder Chris McKellar's real food journey that resulted in the creation of Love's Ice Cream.
Hand crafted, no really.
Ingredients are sourced organically and locally as possible, as whole to their original state as possible. Our production team attended Secchia Institute for Culinary Education and has worked in respected restaurants. It goes without saying that we take scratch cooking and baking seriously, but also have a great deal of fun in the process. Meticulous dedication to the art and science of crafting ice cream.
Wholesome is the new "quality"
It seems everyone touts "quality" ingredients these days, but the word has lost all its value. In the commoditized sense, it simply means "consistent". Love's Ice Cream products are wholesome, and because we emphasize hand crafting, slight variations and seasonality will be evident in our products. We love this because there's always something new to discover at Love's!
We show instead of tell
Words like "local", "handmade", "fresh" and any choice superlatives are easy to say and print in marketing materials. Love's Ice Cream goes to great lengths to show the entire production process transparently. That's genuine. Something that no other frozen dessert shop in West Michigan can do.
Ice Cream Innovation
Constantly seeking to push the envelope, we're never satisfied. Which is why we developed the first ever to our knowledge Mitten Pop™. Our ice cream and Vegan Gelato in the shape of Michigan's lower peninsula – the beloved mitten – for your delight and enjoyment. First debuted at SXSW in Austin, TX on March 16, 2015, at the Creative Many Michigan House.