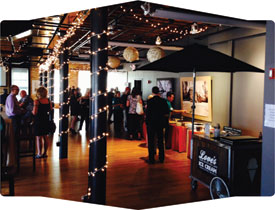 Make your event unique and memorable by offering a locally-made dessert completely hand-crafted from top caliber organic ingredients. We can of course provide scoops of ice cream or vegan gelato in waffle cones, bowls, or compostable cups. In addition, we can provide irresistible chocolatey chip cookies, peanut butter cookies, fudgy brownies & more, to accompany your desserts.
Submit your event inquiry HERE.
You Choose
Up to four flavors.
We Provide
Bowls/cups, utensils, napkins, smiles and delight. Our cart does not typically require electricity.
Service
1 hour of staffed service. Additional time can be reserved.
Setup / Cleanup
We require 30 minutes for setup and teardown before and after the event.
We will appropriately staff the event to accommodate your guest count.
Delivery
Cost covers transportation within a 30 mile radius from downtown Grand Rapids. Outside of this, an additional fee may be applied. Fee is waived for events at the Downtown Market.
Booking / Ordering
2 weeks notice prior to event preferred, but we may be able to accommodate your request with less notice.
Securing a Date
A signed agreement with 50% deposit is required to secure a date for your event.
Payment
Payment in full is required 1 week before the event begins due to the perishability of the product and commitment of our team. Custom flavors also require a deposit.
Other Items
Contact us to discuss other ideas you have!
Vintage Van
Our 1961 International Harvester Metro van can be requested for an additional fee. Subject to location and availability.
Large Events
For events over 300 guests, contact us for special pricing.
Sundae Bar
Available for an additional cost per person and includes an assortment of handmade sauces and house-prepared toppings for guests to create their own sundaes. Requires advance preparation and cannot be added last minute.
Allergies
For allergy sensitive guests, we should be able to accommodate your needs, just ask.
Guest Count
It is your responsibility to accurately provide a guest count. For events over 100 guests, we require at least 2 weeks notice of the guest count. Deposit may be based on an estimate, but final pricing is based on this number. Servings in excess 10% and greater of this number will be billed at the applicable rate. Servings short of this number will not be refunded. We bring an excess amount of frozen product to ensure all guests can choose a flavor without it running out. Therefore we do not leave frozen product at the event. Excess baked goods, however, may be left at the event.
We can cater any type of event: weddings, corporate, meetings, festivals, outings, graduation parties, you name it. Ice cream knows no season or location, it only wants to be enjoyed by many.

Please Contact Us for availability, pricing, or with any additional questions you may have.